As Tackle Kids Cancer celebrated its 3rd anniversary, Eli and our MVPs had an opportunity to reunite. It was a great opportunity to hear how these courageous kids are doing.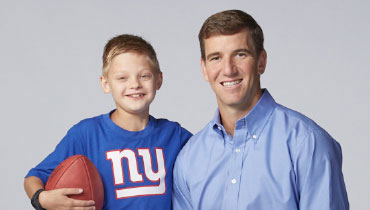 Matthew
Nine-year-old Matthew is thrilled to report that he is in complete remission! The energetic fourth-grader likes taekwondo and is looking forward to starting wrestling!
Matthew continues to be an advocate for Tackle Kids Cancer.
He and his family recently sold lawn signs for September's Childhood Cancer Awareness Month. "TKC is important because not many people realize that childhood cancer is underfunded," he said.
Matthew is proud to have served as a TKC MVP and hopes that other kids can learn from his story. "It's hard and it stinks. But even the hard days get better. Stay strong and keep kicking cancer's butt!"

Kaia
The ten-year-old with the endless grin has even more to smile about these days – being in remission! Kaia is busy, participating in swimming, softball, and soccer, and of course playing with her friends!
The fifth-grader sees her role with Tackle Kids Cancer as an opportunity to help other kids, and give them strength and encouragement. "Stay strong, keep fighting hard, you will get through it."
Kaia continues to raise money for Eli's Challenge and is encouraging everyone to give to her team Kaia's Crushing Cancer Crew. "Raising money will help find a cure, then maybe someday NO ONE will have cancer."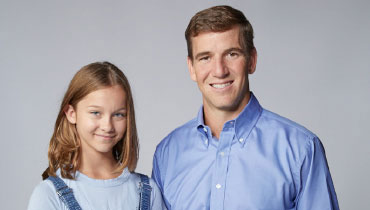 Becca
Ten-year-old Becca is celebrating two years being off treatment and cancer-free! Now in fifth grade, Becca keeps very busy with playing volleyball, practicing the flute, and cooking.
Becca and her family are very appreciative of Tackle Kids Cancer and its mission. "It is nice to know that there are organizations and amazing sports teams and companies working to put an end to childhood cancer."
Beating cancer has had a huge impact on Becca. "People should realize that kids get cancer too," she said. Becca is determined to be part of the solution. "I want to be a doctor because of all I went through."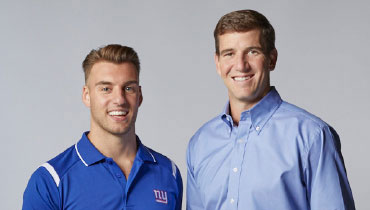 Chris
Four years after his cancer diagnosis, 24-year old Chris Napoli raced in the 2XU New York City Triathlon to support Tackle Kids Cancer.
"I raced to honor all of the friends and families I have met through Tackle Kids Cancer, especially the kids who are still undergoing treatments and those who are no longer with us today," Chris said.
"Every kid should have the opportunity to grow up and experience life to the fullest," Chris says. "My work with Tackle Kids Cancer stems from that point of view, to raise as much money as possible to fund research so that one day no child will have to face these challenges."