Care and Support
Tackle Kids Cancer funding supports over 100 clinical trials and a variety of innovative clinical programs at Hackensack Meridian Children's Health at Joseph M. Sanzari Children's Hospital and Hackensack Meridian Children's Health at K. Hovnanian Children's Hospital. Our campaign is committed to treating the whole child and family. We invest in critical psycho-social programs, including Social Work, Child Life and the Sibling Support.
Tackle Kids Cancer's care and support is with families every step of the way. Funds raised will allow us to expand our services to better meet our patients' and their families' needs while continuing our efforts to provide cutting edge treatments.

Social Work and Child Life
When a child is diagnosed with cancer, the social and emotional needs of the entire family are tremendous. To support our patients and their families' psychosocial needs, the Children's Cancer Institute has a robust team of Child Life Therapists and Social Workers. The Social Work team works closely with the parents to support their needs through treatment. At times this includes support in understanding treatment and coping with the emotions associated with having an ill child. Another vital component of our social work team is helping parents manage the financial toll of cancer. Social workers work with families to access patient assistance services to assist with the family's expenses.
The Child Life team is comprised of child life specialists, music therapists, and creative art therapists who integrate play therapy, performance, music, and art into the treatment of children. Their work helps children to better understand their diagnosis, channel their emotions during their illness or injury, and provide an alternative method for them to communicate. Read more about how funding is crucial to provide this support to families.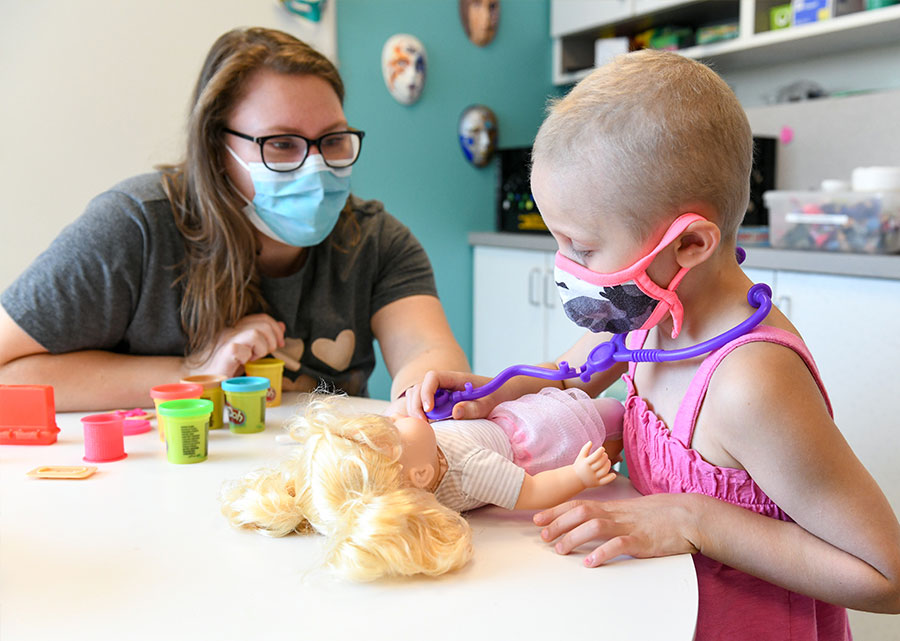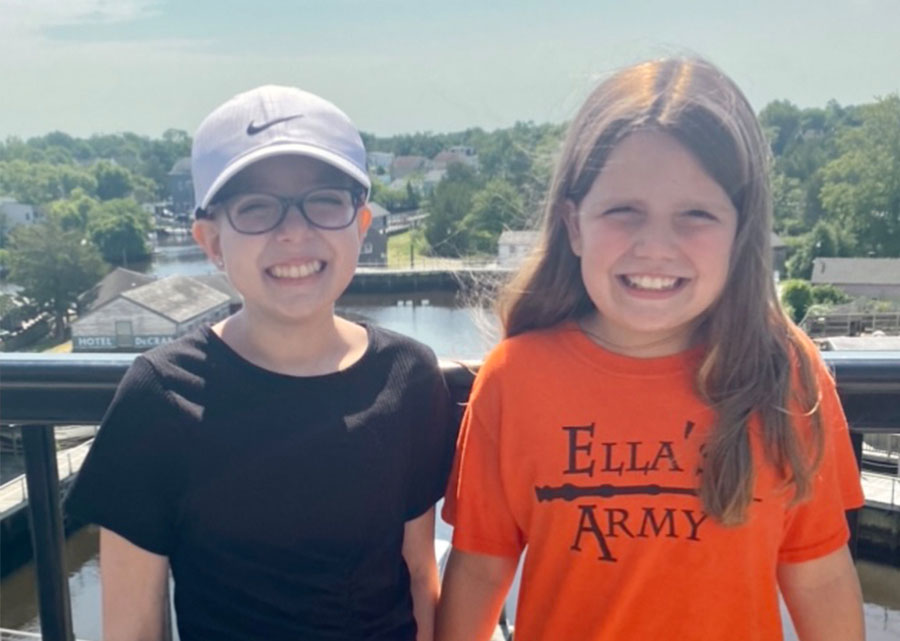 Sibling Support Program
Sibling relationships can be emotionally powerful and critically important, especially in childhood. When one child undergoes a challenging medical emergency or illness, it has a profound impact on their siblings. Tackle Kids Cancer is proud to support families through the Siblings Support Program, a donor-funded initiative.
The services provided are free of charge to families and will be available to siblings of oncology patients, patients who have passed away and chronically/critically ill patients. Child Life specialists work with healthy siblings, providing them with emotional support and therapeutic programming, including one-on-one therapy and group therapy, including bereavement groups and organized recreational outings. Read more about our Sibling Support Program.
Neuro-Oncology Program
The Pediatric Neuro-Oncology Program at Joseph M. Sanzari Children's Hospital provides expert care to children with brain and spinal cord tumors. With these tumors in such delicate positions, it is imperative that they be treated with care and precision. Our pediatric neuro-oncology program approaches the medical needs of a child from all angles, with expert oncologists, neurosurgeons, neuroradiologists, and more providing specialized care.
Research is essential to combating brain cancer, which remains the #1 cause of death by disease in children in the United States. The pediatric neuro-oncology department offers 12 clinical trials for patients, supported by the funds raised through Tackle Kids Cancer.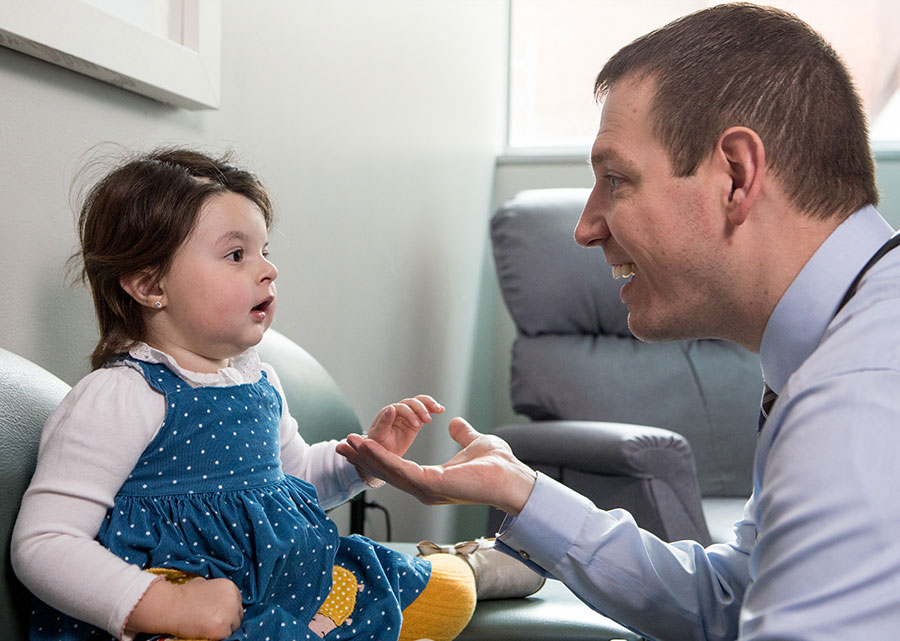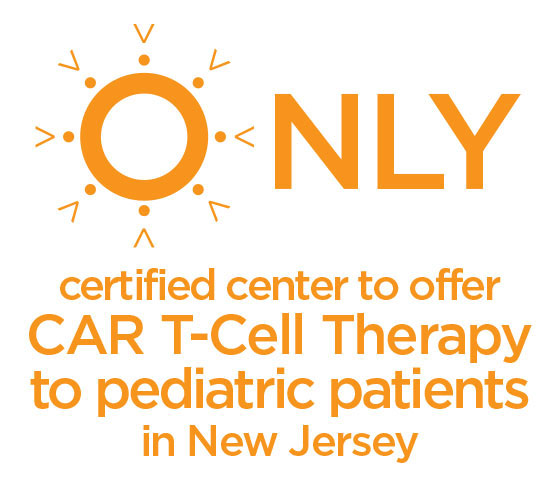 CAR T-Cell Therapy
Chimeric Antigen Receptor (CAR) T-Cell therapy is a type of cancer treatment in which patients' T-cells are taken from their blood and altered in a laboratory to attack cancer cells. T-cells are a type of immune system cell. The process of CAR T-Cell therapy adds a chimeric antigen receptor (CAR) to the cell, which allows the modified T-cell to recognize and attack cancer cells. Altered T-cells are given to the patient via infusion. The team at the Joseph M. Sanzari Children's Hospital has been certified by Novartis Pharmaceuticals to treat patients with treatment-resistant acute lymphoblastic leukemia (ALL) using the first CAR T-Cell therapy, Kymriah. It is geared toward ALL patients who have refractory disease or have relapsed.
Sickle Cell Disease
Sickle Cell Disease (SCD) is the largest inherited disease in the United States, affecting 1 out of every 865 African Americans and 1 out of every 16,300 Hispanic-American births. New Jersey has an estimated 2000 cases of SCD, with 80-90 births occurring annually. While the prognosis for untreated SCD is quite poor, including organ failure, acute pain, and decreased lifespan, there are several available treatments for the disease. Hackensack Meridian Health is the only hospital system in the state of New Jersey offering two curative treatments to patients. These include bone marrow transplant and a new gene therapy protocol. Tackle Kids Cancer includes Sickle Cell in our mission as the treatments and research align closely with our oncology initiatives.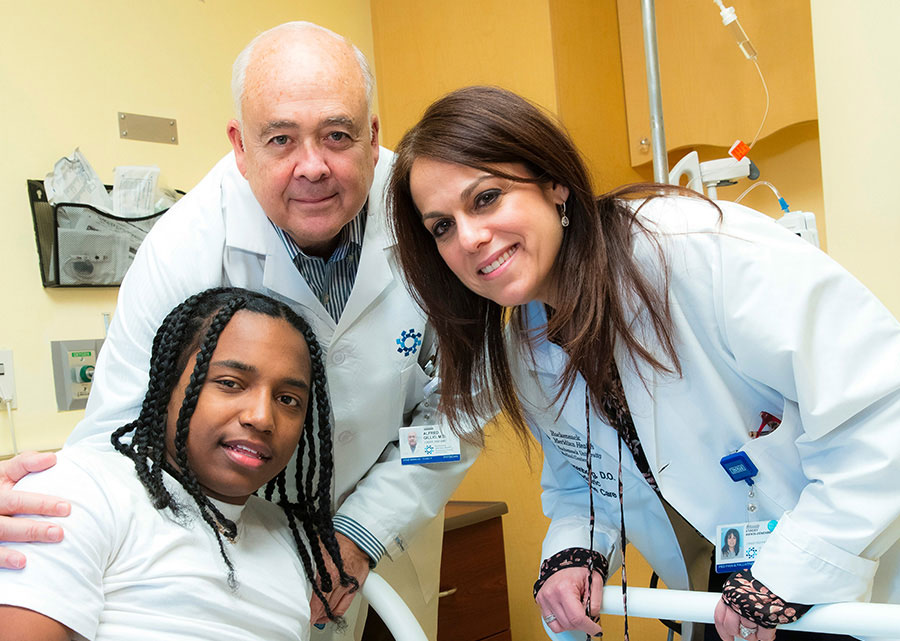 This can't be done without you
Tackle Kids Cancer is a team effort. By raising awareness and funds, we help hundreds of pediatric patients being treated today, and help fund discoveries to keep children healthy in the future.